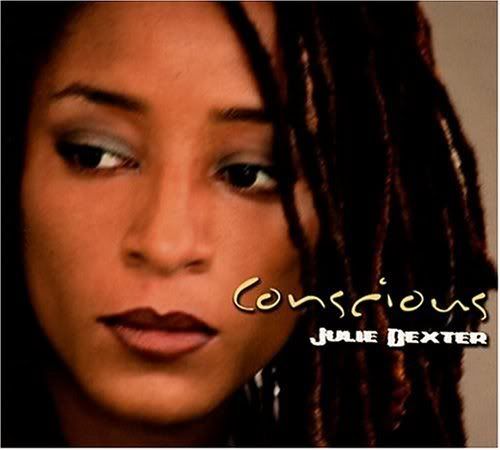 Conscious
Julie Dexter
©2005 Ketch A Vibe Records





(out of 5)
With
Conscious
, the third time is indeed the charm for the soulful U.K. singer
Julie Dexter
. I first heard her silky neo-soul vocals while sampling new indie music at the eclectic
cdbaby.com
3 years ago, and have been looking forward to hearing more from Ms. Dexter. I had high expectations after waiting so long since her wonderful sophomore LP
Dexterity
, to the point of downloading mp3s from the new album before a copy of the LP was available. From hearing
"Choices"
, the opening track, I knew her latest CD was worth the 3 years wait. She starts off with a very laidback but musically conscious vibe that is consistent throughout the album that announces a strong, "new" force of nature in R&B/Soul. Unlike many Top 40 R&B albums,
Conscious
has wonderfully subtle and poetic lyrics, and music that doesn't sound programmed from a keyboard or the latest software for mass consumption. Please make a mental note:
Julie Dexter offers the triple threat talents of writing, performing and producing - her way.
This perfect example of how wonderful diy music is and can be is reflected in her conscious decision to take creative control of her music, not being dictated by marketing trends. As a British singer of Jamaican descent in a U.S./Multinational Corporation dominated music industry, this is a risky move. But the risk has paid off in more ways than one - she's sold more than 40,000 copies of this CD since it's limited release in Fall 2004, reaching fans across the Atlantic and around the globe - and inspiring other musical artists to write their own destinies. (Just listen to the Marvin Gaye "What's Goin' On" vibe of
"The Race"
.) And please quote me on this:
Julie Dexter's "Conscious" rivals Jill Scott's gem "Beautifully Human" and Erykah Badu's underappreciated "Worldwide Underground".
And she does it without relying on a copycat style. Julie Dexter has found her own voice, and that voice is clear with relaxed confidence and grace. Like her previous albums,
Peace of Mind
and
Dexterity
, she further explores her reggae roots, yet maintains her distinctive soulful jazz and funk sound in
Conscious
. Some of the remarkable songs include an opposite's attract heart-clencher
"Like Ours"
, and
"Show Me Now"
- a beckoning slow groove with a seductive flute in the background. The title track asks the listener to question our existence, or as one biography states "re-evaluate ourselves".* Then it all unwinds with
"Rain Song"
, a jazzy, lazy Sunday afternoon track reminiscent of the sweet and soft Abbey Lincoln. Overall, her leisurely musical meditation "Conscious" is welcome in a culture that seems dominated by mediocre talent that doesn't survive 15-minutes of fame.
Julie Dexter
is truly conscious in an unconscious music scene. This CD is higly recommended for R&B, reggae, and neo-soul lovers, hip-hop heads, and even jazz purists. Ketch a vibe and enjoy.
~ diy-danna
I loved every track, but here are my
3 Radio Play Picks: "Like Ours", "Look Who's Got Your Back", and "Show Me Now"
CD available at CDBaby.com, CDNow/Amazon (free mp3 downloads), and
Waterloo Records
in Austin, TX.
Julie Dexter web site:
www.juliedexter.com
*Biographical quote courtesy of CDNow.com's Editorial Review.